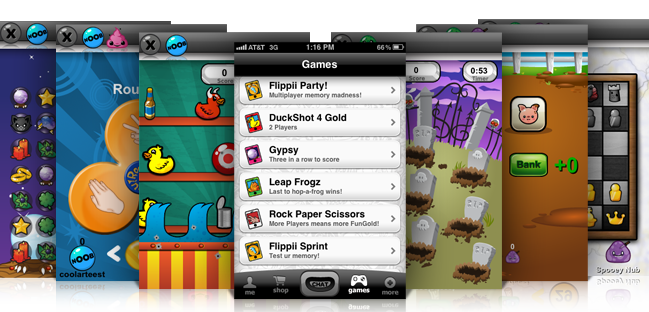 Chat and Games Rolled Into One
FunChat is a whole new way to play while you stay in touch with friends and meet new people. Combining messaging with gaming and pranking, FunChat gives you the unique chat experiences you want and the cool features you need to express your inner Chattitude.
FunChat Network of Games
Combining a real-time HTML5 gaming engine with a "gamified" chat UI, FunChat is a must-have app for anyone who loves chatting, gaming or both.



Narlii's Four Score
In this Connet Four-style game users try and get 4 pearls in a row in any direction to win. Tap the columns to drop a pearl and don't forget to block your opponent. "Live turn-based multiplayer action!"

Zombie Hunter
The apocalypse is upon us. Whack as many zombies as possible before time runs out. But watch out, the faster you whack the horde, the harder it is to avoid the infected pumpkins.

Mr. Poo's Checkers
It's just like regular checkers except, well, smaller. You can play a game much faster than regular checker. Simply tap the piece to see possible moves, tap the highlighted square to move and get to the other for a king. "Live turn-based multiplayer action!".

Flippii Sprint
Flippii Sprint – In this memory style game, tap two pogs to flip them over and hopefully reveal a matching pair. Simple and addicting gameplay keeps you hooked!

Gypsy
Try and get any 3 like items in a row to score. Tap adjacent objects to swap locations and score the most points in 60 seconds to win.

Varmints
Clear away the pesky Varmints by tapping them to whack'em down. But watch out, the faster you go, the harder it is to avoid the bombs.

DuckShot
Just like at the carnival, the object of this instant classic is to knock down as many targets in 60 seconds. Hit repeat items for big bonus combos.

Hurdles
In this fast-paced game, tap the lanes to jump the obstacles as you race against you opponent to the finish line. The highest score at the finish line wins.

Popper
Slide the trampoline to bounce the ball and pop as many balloons as you can. Get extra points for hitting the "Chattitude" character.

eyeBallz
In this guessing game, users try and select the order the eyeballs will be positioned. The most matches out of 5 wins.

Rock Paper Scissors
Try to outwit your friends in this classic game that leverages three simple hand gestures. Tap a hand to choose that position before time runs out. "Live turn-based multiplayer action!"

Piggii
Are you a risk-taker or a penny pincher? In this multiplayer game of luck, you can roll the dice as much as you want, but if you get one Piggii you lose a turn! You can save your points or try for double or nothing, just remember that chance plays a roll.

Mini Checkers
The most mobile version of this classic game. You can compete with your friends to see who's King. Jump your opponent to capture their pieces, and get to the other side of the board to be crowned. Winners can reign over their friends!

MiniChess
The classic game of strategy, miniaturized! To win, you've got to think fast since you have only 20 seconds to make a move. Even if you've never played Chess before, this game is simple and fun for everyone!

Leap Frogz
Only one person can have the last leap in this multiplayer game of strategy. Leap over a frog to a free lily pad to make a move, but think ahead since the last player able to jump wins!
BBQ Reversii
If you're hungry to beat your friends, this game can satisfy your appetite. You'll put your BBQ food on the grill, and flip your opponents food tokens to steal them until the board is full. Who will get cooked the most: hamburgers or hotdogs?
[/av_one_full]